Sunstate Water Sports Hobie Sales Strong Through Covid. As most of you are aware, we are now well and truly in the new shop! The short Covid lock-down we had in Qld gave us a great opportunity to get the majority of the move done. It was dead quiet during those few days but subsequently, things have picked up!
We have done demos, got a truckload of stock in, including the new Hobie Lynx and Tandem Islands that customers have been waiting for.
We have sent out a bunch of then-new Lynx with all sorts of accessories. Which do you like :
Hobie Lynx as is, The Lynx with H-rail, Lynx with H-Bar or Lynx with H-Rail and sounder setup.  Island
We have sent out Hobie Outbacks and fitted the new Lynx H-Rail to an Outback.
We have sent out a pair of Dune Tandem Islands and a sexy Hibiscus Tandem Island
We have sent a Hobie 16 up north and have another ready to go to Cape York
We have also fitted probably the first Humminbird Mega 360 transducer and Helix 10″ Sounder to a Pro Angler 14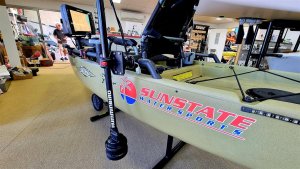 All I can say is I'm very happy to be in Qld and a BIG THANK YOU all for helping us help you. I do believe the new shop is working well with easier parking, a good workshop area (still a work in progress) and a much better display of product!
Qld Hobie sales still Strong through latest Covid outbreak.