$2450 – 2015/16 Revolution 11 with MD180 upgrade – We have sold over 10 of these Hobie Revolution's during the Covid 19 and are now down to the last few.  UPDATE, SOLD OUT !
$3190 – 2018/19 Revolution 11 with Arc MD 180 We are now down to our last few, Other than the Kick-Up MirageDrive these are the same as a 2020 kayak.VERY LIMITED !
Run-Out Hobie Vantage Seat Revolution 11 with MD180 from $ 2450 to $3190 are the perfect option for anyone wanting to get into a great "small" package with all the comforts like Vantage CT Seat and MirageDrive 180 (Reverse). Only available in the Olive colour shown below this is the end of these specials with a saving of over $1200 on a New Revolution 11 and the hull and seat are exactly the same !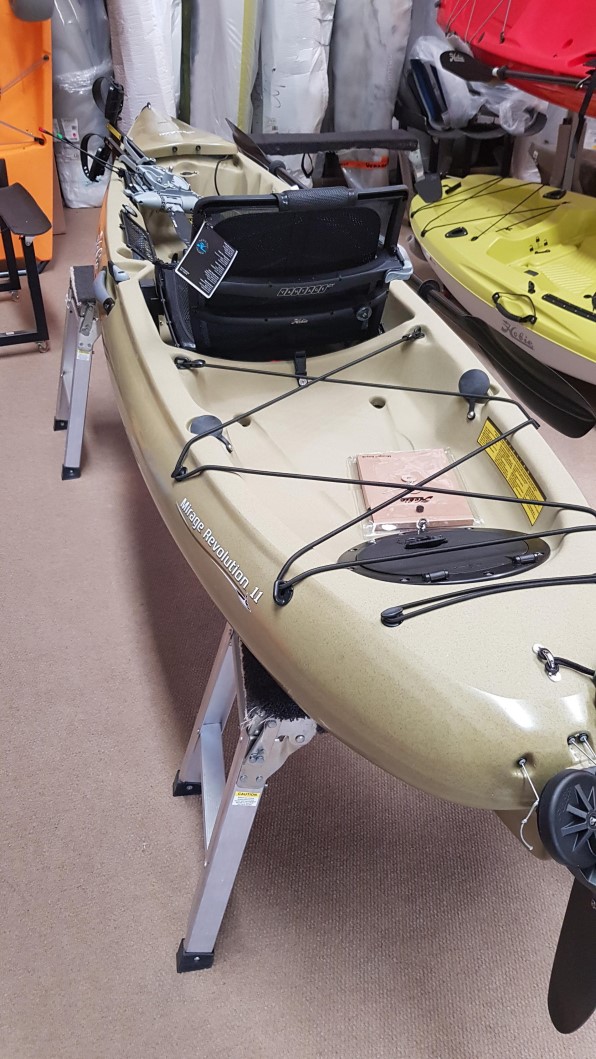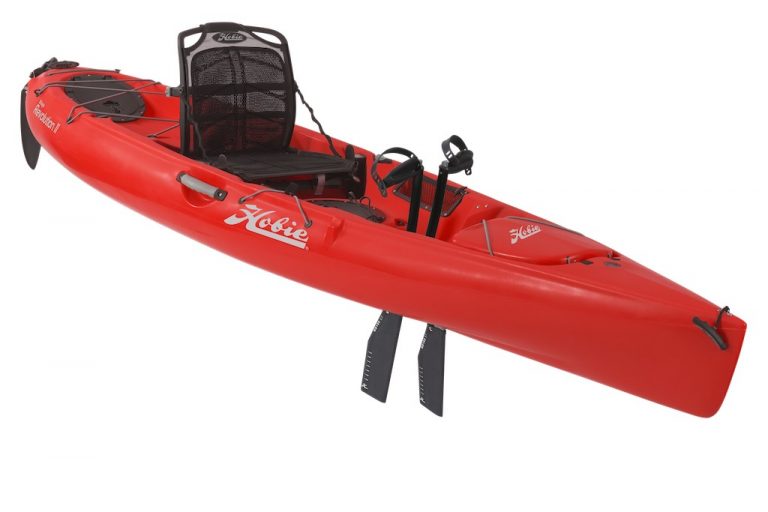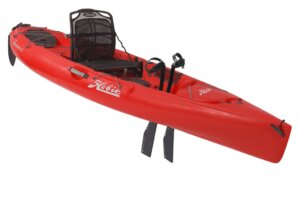 Hobie Mirage Revolution 11
The addition of the Revolution 11 to the Hobie family of Mirage driven kayaks was a perfect fit. Just as the Sport is a smaller version of the Outback, the Hobie Mirage Revolution 11 offers a smaller, lighter version of the Revolution 13.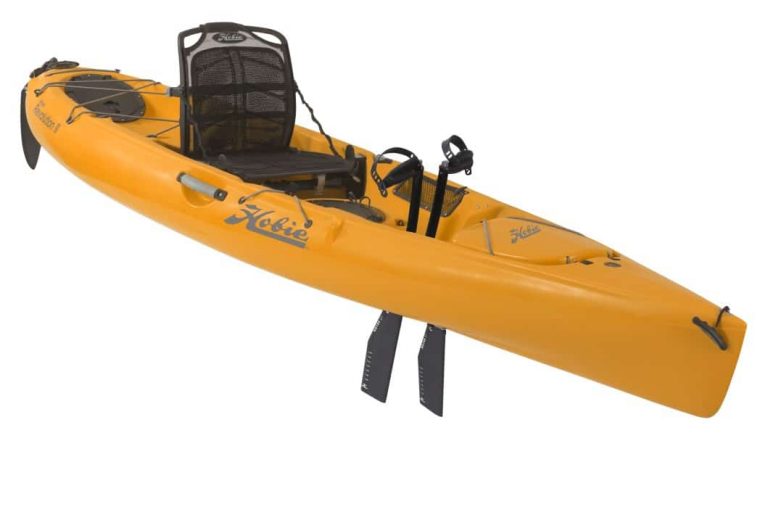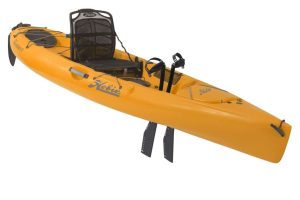 Just under 2 feet shorter than the 13'5 version, the Mirage Revolution 11 is 11'6″ long. Adding a 1/2 inch of width keeps an impressive capacity of 136kgs, only 23kgs payload less than the Revolution 13 and 34kgs more payload than the Sport.
The added width transpire to added comfort as the seating is roomier. All the same storage and amenities found on the original Revolution.
Weighing only 47 pounds is incredibly appealing. Lifting to load and unload, as well as pulling along on a wheel cart are done with ease.
On the water this lighter hull make for quicker turning and acceleration response. A truly agile, nimble, and innovative fishing kayak, the Mirage Revolution 11 will ideally accommodate small to midsize users. Perfectly suited for the ocean as well as inland waters, Hobie has filled a void with their newest in the Mirage Series.
Specifications
Length: 11′ 6″ / 3.51 m
Width: 29″ / .74 m
MirageDrive® Weight: 6.6 lbs / 3 kg
Hull Weight: 47 lbs / 21.32 kg
Capacity: 300 lbs / 136 kg
Crew: 1
Hull Construction: Rotomolded Polyethylene
Features
MirageDrive 180
Twist and Stow Rudder
Vantage CT Seat
Two-Piece Paddle w/ On-Hull Storage
Large Covered Bow Hatch
Sail Mount
Two Molded-In Rod Holders
Rear Cargo Area w/ Bungee® Tie Downs
Two Twist and Seal Hatches (patent pending) w/ Gear Bucket
Two Mesh-Covered Stowage Pockets
Mid-Boat Carrying Handles