Big fish, Big sports Stars, Big Fun – Sunstate Hobie
Big Fish
Once again, Sam is smashing the Spanish in his Hobie. This was taken this week! Sam was on an old Hobie Adventure (now the Revolution)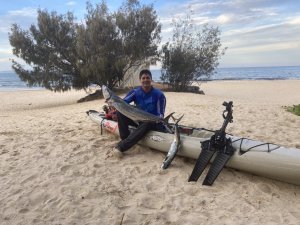 We have had another VERY busy week ! It was good to meet Matthew Hayden, and son Tom, and help them with their new kayak . They have a Hobie already but picked up a new 2021 Hobie Passport 12  in Bay Sand. These kayaks are flying out the door, just glad we have stock !
Check out how well the Passport stacks on to of the Outfiitter.
Big Sports Stars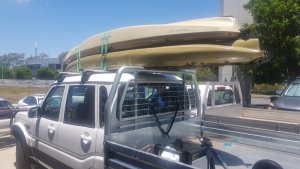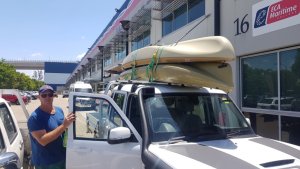 Big Fun
I manage to get out this last Sunday with the family to test out a trade-in Tandem Island ….. sorry its sold already !
Forecast was for strong northerly winds building, perfect for a trip to Peel Island. An hour sail over to the Peel with mostly a beat out on port tack. After a picnic and a swim on the island and we were ready for the return and the wind had been building!!
A broad reach home on Stb tack was a pleasure! With the wind above 20 knots we made the return in just on 20 minutes ! The kids smiles said it all ! We tested out the Junior range of gear we have available. Splash tops from Ronstan and Hydrophobe pants and tops from Gill and the kids were HAPPY. If you are looking for some new gear, give us a call, if we don't have it, we can get it!